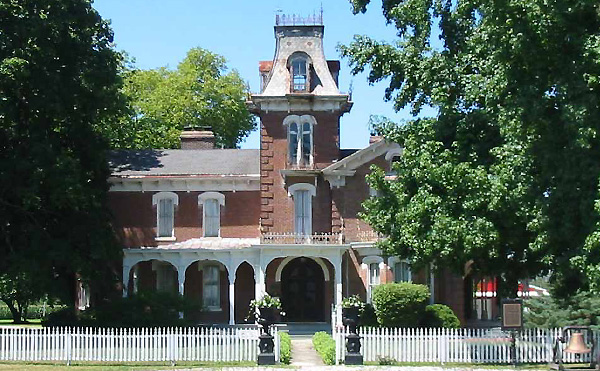 Hazel Dell Farm
In 1830, two men purchased large tracts of land in what is now Jersey County. The first, Silas Hamilton, settled near Otterville and was later responsible for the establishment of the state's first free integrated school. The second, a Tennessee land speculator by the name of Joseph Russell, left his daughter Cornelia 320 acres of prime land in Jersey County.
Cornelia was the wife of Colonel William H. Fulkerson, a native of Tennessee. Fulkerson attended the U.S. Military Academy at West Point. His math instructor was Robert E. Lee. After two years at the academy, Fulkerson resigned to help squelch the Mormon Rebellion in Utah. He then found employment with a freighting company, driving a wagon between Missouri and California. When the government contracted the same company to deliver mail from St. Joseph to Sacramento, the Pony Express was born and Fulkerson signed up to be a rider. When the Pony Express was discontinued just 18 months later, he remained in the West to help survey the Nebraska Territory.
The start of the Civil War prompted Fulkerson to return home to Tennessee. There he helped organize a militia for the Confederacy and was elected Captain. He received several promotions during the war, eventually receiving the rank of Lieutenant Colonel.
Colonel Fulkerson was wounded at Chickamauga and credited his brother-in-law's horse, Great Britain, with saving his life. His brother-in-law was killed during the battle and Fulkerson himself was shot off his horse. Seeing Great Britain nearby, Fulkerson called to him. The horse responded and swiftly carried him to safety. When Colonel Fulkerson and Cornelia relocated to Jersey County in 1866, Great Britain came with them. When the stallion died, he was buried under the buckeye trees in the front pasture.
Once they were settled in Jersey County, the Fulkersons set about building a showcase home equipped with the latest modern conveniences. The result was a 14-room Southern-style mansion equipped with gas lamps, a pressurized water system with both hot and cold water, and indoor toilets and bathtubs. Fulkerson added another 320 acres to the farm and began breeding short-horn cattle. The farm, at one point, included chickens, pigs, and 200 horses — in addition to the cattle. The Fulkersons often entertained friends and business associates. Those interested in purchasing cattle would often be guests of the colonel and Cornelia for a week before getting down to business.
One frequent visitor to Hazel Dell Farm was Cornelia's nephew, Charles M. Russell, who would become one of America's most famous western artists. In fact, Russell learned to ride on Great Britain. The Jersey County Historical Society has on display a letter that Russell once wrote to his aunt and uncle, thanking them for a Christmas present. The letter has several small western scenes sketched in the margins of the letter.
Cornelia passed away in 1909 and Colonel Fulkerson in 1919. Both are buried in Oak Grove Cemetery in Jerseyville.
Hazel Dell was added to the National Register of Historic Places in 1998.
Jersey County Historical Society
601 N. State St.
Jerseyville, IL 62052
618-498-3514